Who the Hell is Ben Orton?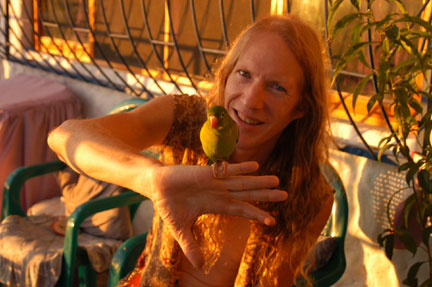 I was born in Champaign/Urbana, Illinois many moons ago. I now hang my hat in Central America. I came from deep in the Ozark Mountains in a place called Fayetteville, Arkansas. It's a far-out place with lots of cool people and many musicians as well as the University of Arkansas.
I have lived in such places as Seattle, India, and Iran in the past. I think this influenced my style of playing guitar and my songwriting. That, and the infamous Hogeye Bill of San Francisco, who turned me on to guitar in the first place.
I have been performing in various bands and as a solo act for over 30 years. I produced my 1st CD "Ben Orton & other Infamous Fugitives" in 1995 and in 1999 produced and played on a metal zappaesque biker-type album. The band is called GODLESS. I played bass and did back-up vocals. My next CD was recorded in Costa Rica and is called "Hecho en Costa Rica". It's Rock-N-Roll with a tropical vibe. I'm currently working on another CD and hope to have it done by the end of 2010.
I've been living in Costa Rica for about 10 years and have gigs at various beach clubs, along the Pacific coast mainly. I write music, record demos, give guitar lessons, and jam with some of the interesting musicians that pass through and that live here. If you're ever in Costa Rica look me up and come sit in with the band. Pura Vida! Ben Jammin