Band Scrapbook - My Musical History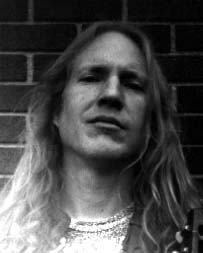 I've been in a lot of bands throughout the years. Some of them lasted for a while and made a little money, and others were short-lived and ended up being a drag. But I don't regret a second of all the weirdness that has happened and all the strange gigs that I've played.
The first band that I was in was called Crosstown Traffic. I was 16 years old. I played a Fender Mustang that my brother the infamous Hogeye Bill of San Francisco gave me. I had my first paying gig with this line-up. We had 3 guitars, a drummer, and NO bass! We played "Freebird" 3 times. The last time, just the fast part. You get the picture.
The next band I was in was in Tehran, Iran. We had gigs at the Military club and high schools. We had guitarists from England, Australia, and the US, a drummer from the Philippines, and a bass player also from the US. We used to sit on the roof-top of the bass players house and smoke hash while Iranian armed guards would guard the front gate. The bass players dad was a General or something. Back in the states, the next band was BAGSHOT ROW. We had quite a few decent gigs. We played around Northwest Arkansas and acquired some new gear. The line-up was Mike Taylor and myself on guitar, Severino Myers on bass, and Kirk Burnside on drums. I forgot how long this band lasted but we all ended up good friends.
The next band was THE FUGITIVES with drummer/guitarist Bill Lonon, Bill Terry on bass/vocals, Randy Julich on guitar/vocals, Kirk Burnside on drums, and me. We had a lot of personel changes and over the years I figure there were about 30 FUGITIVES. We had some pretty good gigs, and we had some gigs from hell. Here is a photo of the first gig of the FUGITIVES.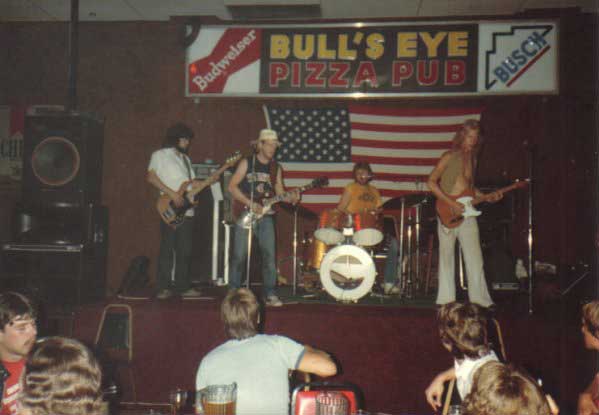 We had gigs in and around Fayetteville, Arkansas. Lonon did most of the lead vocals and sang songs by CREEDENCE, KINKS, JACKSON BROWN, THE BAND, BEATLES, and STONES. The FUGITIVES temporarily broke up many times, usually just long enough to work in another musician to fill the vacancy. Members were either kicked out, or quit on their own for reasons too numerous to mention. Pictured are various line-ups of THE FUGITIVES. One of the latest was James Biggs (of Fayetteville via L.A.) and myself on guitars, Bill Terry on bass, and Tim Carnes on the skins. We warmed up for BLACK OAK ARKANSAS on several occasions and had quite a few gigs playing every week for over a year. This is when I started writing my own music and performing original songs live. This line-up ended when Biggs went to M.I. (then called G.I.T.) in L.A.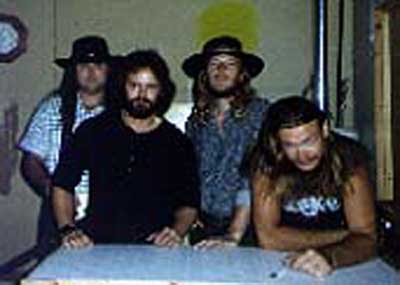 The next era of the band was a bit wild. My old friend and partner in crime "Daddy Rabbit" from Kansas City played his briefcase full of blues harps. Then "Bobby Rocket" from New Orleans joined in on keyboards. He is quite the musical poet. His dad is Miller Williams who wrote that poem for Bill Clinton's Inauguration, and his sister is Lucinda Williams. This line-up of FUGITIVES was a party from day one. We all lived in band house #1, #2, #3, and #4. For some reason we kept getting kicked out. We would play lots of biker bars and other rowdy places. This line-up lasted remarkably long considering how much booze and all we consumed. We finally thizzled out for a while.
The next band was BONE DRY with David Miller from Memphis on bass. We had Gigs in Little Rock, Hot Springs, Fort Smith, Arkansas, Tulsa, Oklahoma, and Springfield, Missouri, to name a few. We played mainly hard-driving blues, and a few originals of David and mine.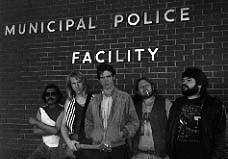 The next band was BORDER PATROL. We had a few gigs. We did mainly outdoor parties. The line-up was Jeff Meyers on bass and lead vocals, James Biggs and myself on guitars, and Kirk Burnside on drums. I also did solo or duo acoustic gigs during this time. My guitar mentor, Bob Myers and I had a pretty cool gig for a while. It was THE BOB & BEN SHOW. I played straight acoustic and Bob played his syth guitar with every kind of stomp box and gadgetry that you could ever imagine. He's great. We had a hoot.
The next band I was in was TRES AMIGOS. We were totally acoustic, but we played rock-n-roll. Our motto was "Amps?.....We don't need no stinkin' amps!!! It was a blast and we worked regularly for about a year. The line-up was Darren Ray (singer extraordinaire) and Biggs and myself, all on acoustic guitar. We traded off leads and bent the strings as if they were electrics.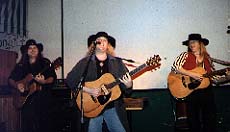 It was around this time that I got dumped by my girlfriend, wrecked my car, and dropped out of college. (I had been whittling away at college the whole time). At this time I was fortunate enough to get a sponsor for recording my first CD (Deb "Head" Rush). So for about a year I totally immersed myself in my original music and recorded "Ben Orton & other Infamous Fugitives" in 1995. I did all the vocals and guitars, and brought in other FUGITIVES to do the other tracks. Also David Rasico, of St. Louis played the keyboards (mostly first takes), Rob Ellison of Fort Smith played bass on 2 tracks, Pete Zajak of Chicago played some killer harp, Marty Peyton and Trey Stanley played auxiliary percussion, and Steve Katzekus of Palm Springs also did some keyboard work. I put together a band, THE FUGITIVE SOULS, to promote the CD. The line-up was Hal Baily from Tulsa on bass, Tim Carnes on drums, Tony Letto and me on guitars. I also did some shows with the "VICTIMS OF GRAVITY" as well. This line-up was Noel Stanwick from Paris, France and myself on guitars, Steve Young from Chicago on bass, Crieg Woodman on drums, and sometimes Pete Zajack on Harmonica. I was also fortunate to get to Jam with Bob Ketchum for a few memorable gigs in Mountain Home.
Around this time I also got to open up as a solo acoustic act for BETTER THAN EZRA at a club near West Memphis. This was arranged by friend and musical advisor Boux Whalen from Jonesboro AR./New Orleans.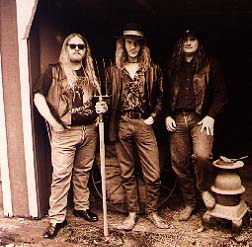 Daddy Rabbit, Ben Orton, and James Biggs
Around this time an old school buddy of mine Bill Gatewood contracted me to do various recordings and live work for the Arkansas Heritage Department for a while. Another friend, Lucious Spiller, was involved in this project. I then started BRO Entertainment. (P.A. and gear rentals, demos, lessons). Then I FINALLY graduated from college with a degree in Geography. It was then that the infamous Hogeye Bill turned me on to a graduation present by taking me for a one month vacation to Costa Rica. I had such a good time that I decided to move here. I lived in Jaco Beach for about 4 years and did a solo act 4-5 nights a week, as well as laid some tracks for my next CD (I brought an Alesis Adat and a Mackie board and other outboard gear with me).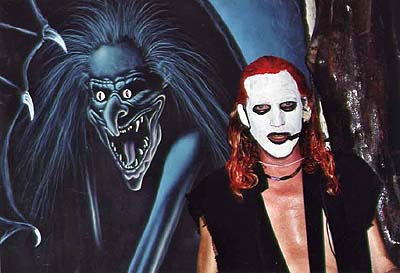 Ben at La Bruja in Jaco, Costa Rica.

After living in Jaco I moved to Quepos with my bass player/girlfriend Karen Saith from Trinidad. We were gigging 3-4 nights a week along the Pacific coast of Costa Rica with various drummers as a 3 piece . We quit drinking for about 6 years, which ain't easy in a tourist, vacation party place like this, but we managed. I took the sport back up in moderation a while back. I now have several line-ups and have been working 4-6 nights a week. Among the arsenal of musicians are Robert Simpson of North Carolina, Wolfgang of Germany, Niven "Gringo Star" of England, John "Thunderfoot" of Portland, Letty Anderson and Lance Bennett of Toronto, and when we get lucky... Nancy Buchan of New Orleans on the fiddle. If you happen to be vacationing in Costa Rica check us out. Otherwise, We'll see you in the next world, don't be late!

- BenJammin'